School Liaison
School Liaison Officer (SLO)
The School Liaison Officer serves the entire K-12 population regardless of where they are educated. School Liaison Officers are employed to help navigate academic pressures on military children and their families as they move around the world and transfer between school systems. Chinhae's SLO is here to assist you with just about any school-related question.
What is a School Liaison Officer?
The School Liaison Officer serves as the liaison between the installation commander, military agencies, and schools by providing assistance in matters pertaining to student education. The School Liaison Officer also implements the Navy's Strategic Planning for Education Advocacy K-12 recommendations in order to ensure Navy families have access to quality educational opportunities. School Liaison Officers level the playing field for military children by ensuring maximum educational opportunities for academic success.
Why Are School Liaison Officers Needed?
School transition and deployment support is a Navy readiness and retention issue. The Navy will benefit from having Sailors who are able to focus on their duties, whether ashore or deployed.
• Navy families move their children an average of every 2.9 years.
• Children of military personnel attend up to 9 different schools by graduation.
• Military families are reluctant to disrupt high school youth in their senior year.
• Deployments can impact educational outcomes of children.
• Many families decide to "separate geographically" to keep kids in their current school.
Families - Contact your School Liaison Officer for help with:
• Inbound/outbound school transfer
• Local schools and boundaries
• Finding the right school
• Understanding special education
• Meeting graduation requirements
• Finding military and local support services
• Home schooling support
• Preparing for college and scholarship information
Local School Information and Links:
The Non-DoD School Program (NDSP) is an option for command sponsored families stationed outside of the United States where DODEA schools are not available. The NDSP allows families to choose a school for their children, when a DODEA school is not available. NDSP does not inspect or certify schools; families are given the opportunity to select the school that works best for them. See "Education in Chinhae" under the downloads on the right for a list of some educational options we've found in the area. In the map below you can see the locations of the listed schools in relationship to CFAC.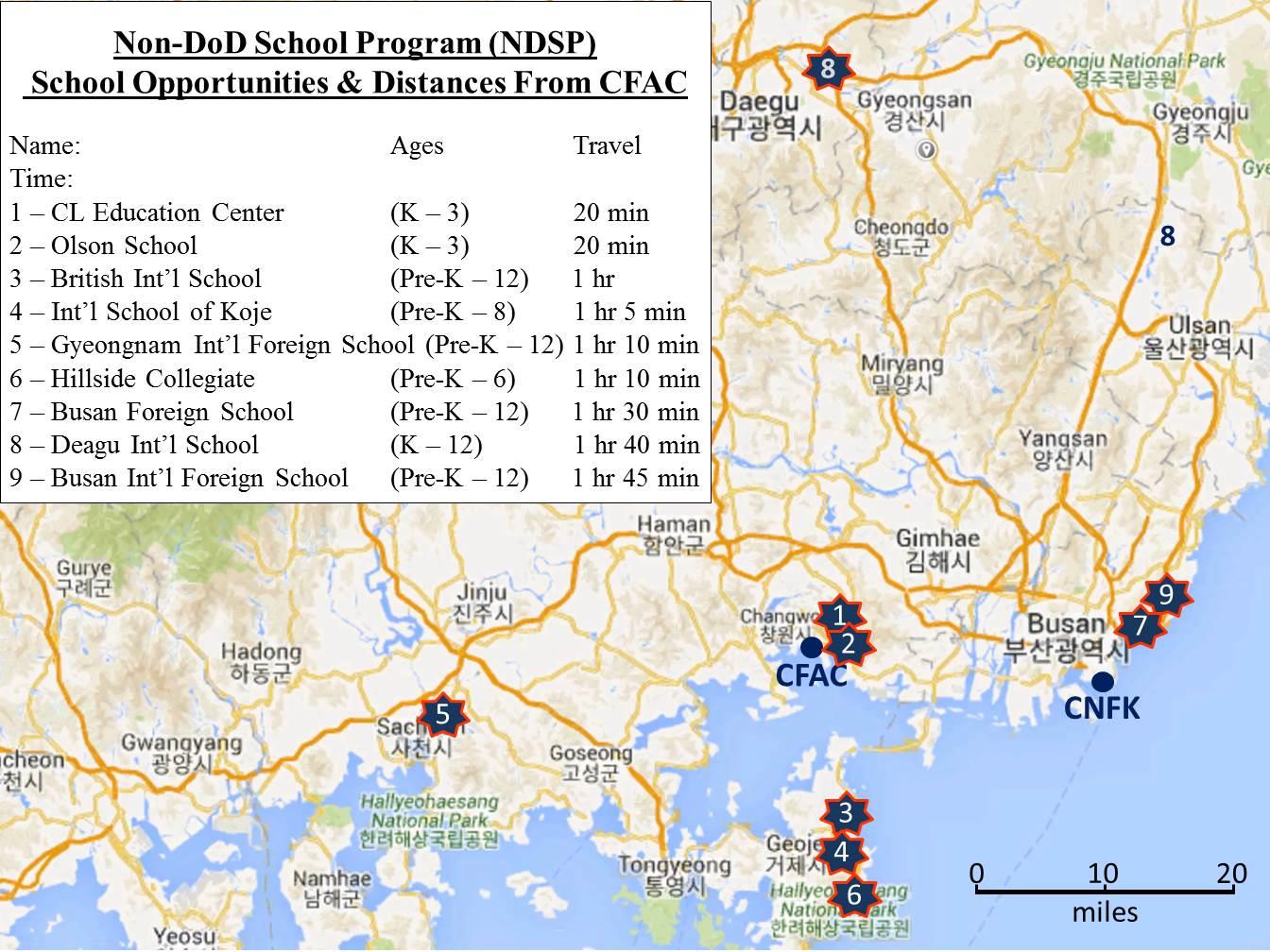 For more information on the NDSP and how it will help your family with your children's education while stationed overseas, please visit their website listed below or the Chinhae SLO/ NDSP Liaison.
Exceptional Family Member Program (EFMP)
Supporting Military Families with special needs.
http://www.public.navy.mil/BUPERS-NPC/SUPPORT/EFM/Pages/default.aspx
Home School Information
Guide to Online Schools: http://accreditedschoolsonline.org
Department of State Homeschooling Information:http://state.gov/m/dghr/flo/c21941.htm
Non-DoD Schools Program (NDSP):http://dodea.edu/nonDoD/
NDSP Sponsor Orientation: https://content.dodea.edu/VS/pd/ndsp/ndsp_orientation/index.html
DoDEA: http://dodea.edu/partnership
Military Interstate Children's Compact Commission:http://mic3.net