SAAPM 2019 Coloring Contest
April is Sexual Assault Awareness and Prevention Month. We know that #ProtectingOurPeopleProtectsOurMission, and this year we invite Sailors, DoD civilians and contractors, Korean employees, and all of their family members to #MaketheCommitment to protecting our Navy community and putting a stop to sexual assault by participating in our very first COLORING CONTEST.
That's right, Fleet & Family Support is hosting an art contest! It's family-friendly, and there will be prizes for adults and children.
There are many pages to choose from, including affirmative consent, empowering survivors, and supporting healthy relationships.
You can download the coloring pages from the links in the right column of this page under downloads. Or head over to our FFSO Facebook Coloring Contest Photo Album for more pages.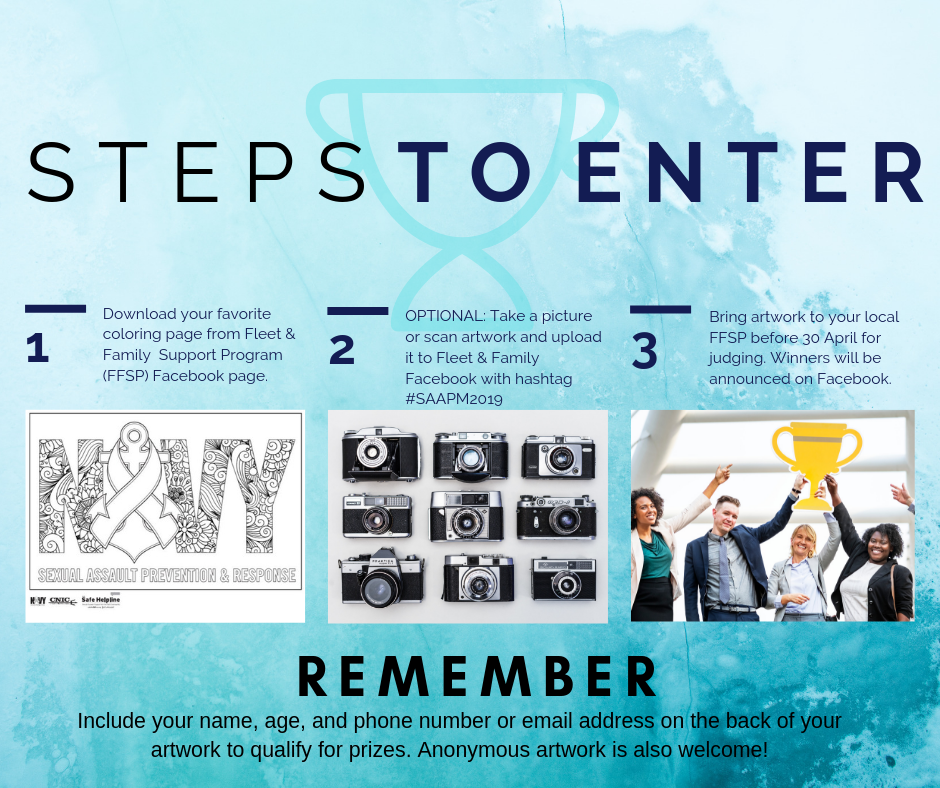 In order to qualify for prizes, you must turn your physical artwork into the Fleet & Family Support SAPR Program with your name and contact information written on the BACK of your artwork. Artwork cannot be fairly judged by the Command and Victim Advocate panels if labeled on the front.
Unauthorized coloring pages will not be considered. Social media shout-outs are OPTIONAL and all identifying information will be removed by Fleet & Family prior to submission to the panel.
This contest is open to all Navy Sailors, DoD civilian and contract employees, and their family members. This contest is also open to Korean employees and their families.
Anonymous artwork is also welcome and will be featured in Building 711.